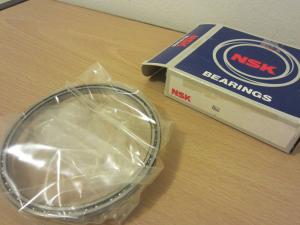 NSK extremely thin-section ball bearings contributing to downsizing, weight saving, and reduction of torque loss of robots, construction equipments, and industrial machinery.
Feature
Low frictional and irregular torque ensure highly efficient power transmission and smooth rotating performance.
The high accuracy of the bearings enables excellent high-speed performance.
NB7 Type
An NSK original, the NB7 type is the thinnest deep groove ball bearing. The minimal space required for the bearing facilitates downsizing of equipment.
68 and 69 Types
These are NSK thin deep groove ball bearings available in open and sealed types. NSK bearings with a snap ring are also available. The 68 and 69 types are low maintenance and they facilitate the simple design of bearing surroundings.
Features of shielded and sealed NSK N series metric thin section bearings
Type
Shielded type(zz)
non-contact rubber sealed type(VV)
Contact rubber sealed type(DDU)
Torque
Low
Low
Higher than ZZ and VV due to seal contact
Speed capability
Good
Good
Limited by seal contact
Grease sealing effectiveness
Good
Better than ZZ
A little better than VV
Resistance to foreign particles and debris
Good
Better than ZZ
(serviceable in moderately particle contaminated environments)
Best
(serviceable even in very particel contaminated environments)
Water resistance
Not suitable
Not suitable
Good
(serviceable even if liquids are splashed on bearing)
Operating temperature
-10 to 110°C
-10 to 110°C
-10 to 100°C
The table above compares the features of shielded, non-contact sealed and contact sealed bearings.