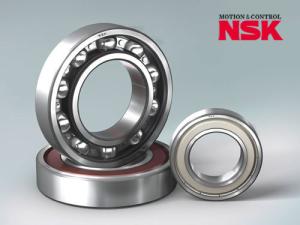 NSK single row deep groove ball bearings are classified into the types shown below.
The proper amount of good qualit grease is packed in shielded and sealed NSK ball bearings. A comparison of the features of each type is shown below.
Features of sealed NSK ball bearings
Type
Shielded type
(ZZ type)
Non-contact rubber sealed type
(VV type)
Contact rubber sealed type
(DDU type)
Torque
Low
Low
HIgher than ZZ, VV types due to contact seal
Speed capability
Good
Good
Limited by contact seals
Grease sealing effectiveness
Good
Better than ZZ type
A little better than VV type
Dust resistance
Good
Better than ZZ type (usable in moderately dusty environment)
Best (usable even in very dusty environment)
Water resistance
Not suitable
Not suitable
Good (usable even if fluid is splashed on NSK bearing)
Operating temperature (1)
-10 to +110°C
-10 to +110°C
-10 to +100°C
Note (1) The above temperature range applies to standard NSK bearings. By using cold or heat resistant grease and changing the type of rubber, the operating temperature range can be extended. For such applications, please contact NSK.

For NSK deep groove ball bearings, pressed cages are usually used. For big NSK bearings, machined brass canges are used. (Please refer to table below)
Machined cages are also used for high speed applications.
Standard cages for NSK deep groove ball bearings

| Series | Pressed steel cages | Machined brass cages |
| --- | --- | --- |
| 68 | 6800 - 6838 | 6840 - 68/800 |
| 69 | 6900 - 6936 | 6938 - 69/800 |
| 160 | 16001 - 16026 | 16028 - 16064 |
| 60 | 6000 - 6040 | 6044 - 60/670 |
| 62 | 6200 - 6240 | 6244 - 6272 |
| 63 | 6300 - 6332 | 6334 - 6356 |
NSK deep groove ball bearing nomenclature

please refer to: NSK bearing nomenclature.
1, Bearing type symbol
2, Dimension symbol
2: 02 series
3: 03 series
9: 19 series
0: 10 series
3, Bore number
Less than 03, Bearing bore 00: 10mm, 01: 12mm, 02: 15mm, 03: 17mm
Over 04, Bearing bore Bore number X 5 (mm)
4, Seals, Shields symbol
ZZ: Shield on both side
DDU: Contact rubber seal on both side
VV: Non-contact rubber sealed on both side
5, Internal clearance symbol
Omitted: CN clearance
C3: Clearance greater than CN
C4: Clearance greater than C3
CM: For electric motors. The CM clearance can be used in substitute of the CN clearance. (The opposite is not available.)
6, NSKHPSTM symbol
7, Grease symbol
NSKHPSTM deep groove ball bearings
Compared to the conventional bearing:
Improved reliability
Bearing life has increased by a maximum of 2 times compared with that of conventional bearings by the optimization of the bearing's internal design and improvement of processing technology. As a result, the NSKHPSTM bearings contribute to reducing maintenance cost and facilitate the downscaling of related equipment.
New product line-up
The standard dimensions are the same as for the standardsize bearings, NSK has expanded the line-up of NSKHPSTM bearings fousing on a wide range of sizes offering a high degree of versatility for various general-purpose applications.