The inch family of Kaydon Reali-Slim thin section bearings includes seven open series and five sealed series, ranging in bore diameters from 1.000 inch to 40.000 inches. Series range from .187 x .187 inch to 1.000 x 1.000 inch in cross-section. Open bearings are available from stock in three configurations (Types A, C & X). Stock sealed bearings are available in Types C & X only.

Kaydon can provide internal fit up, lubricants, separators and other features to meet the most demanding specifications. To obtain corrosion resistance consider using the Kaydon stainless steel Reali-Slim or Endura-Slim series of bearings. Endurakote plating provides corrosion protection equal to or better than a full AISI 440C stainless steel bearing and can be supplied with very quick delivery.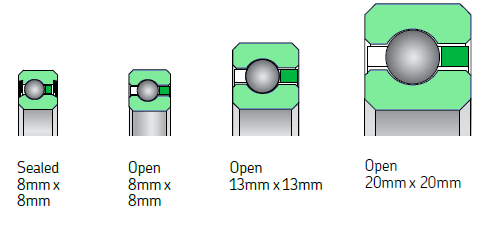 Metric bearings
Additional product line variants include Kaydon Reali-Slim MM metric series bearings, Ultra-Slim bearings, Reali-Slim TT series turntable bearings, BB metric ball bearings, bearings for Demanding Applications, and KT thin section taper bearings.
Within these families, you can generally choose between open bearings for applications where bearings will not be exposed to damaging particulates and sealed bearings for applications where bearings need to be kept clean and well-lubricated.
To support various load scenarios, Kaydon Reali-Slim bearings are available in three basic types: radial contact (Type C), angular contact (Type A), and four-point contact (Type X) and in a variety of sizes, or series (e.g., KA, KB, KC, etc.).
Kaydon Reali-Slim bearings are available with various separator options to space the rolling elements uniformly and prevent contact between them. Separator types available include: continuous ring "snap-over pocket", continuous ring circular pocket, formed wire, toroid, PTFE spacers, and spacer ball separators.
Specification control
In today's world, product traceability is extremely important. To satisfy these requirements, requesting a "specification control drawing" for a Reali-Slim bearing is a valuable option to consider.
A specification control drawing provides the user a concise description of the important bearing features and parameters for a specific bearing. A specification control drawing request will generate a unique part number for the standard Reali-Slim bearing, including the commercially available options you have selected. This provides the customer quick and easy identification of product in the field as well as a concise receiving and inspection document for the factory.
Kaydon Reali-Slim bearings improve design efficiency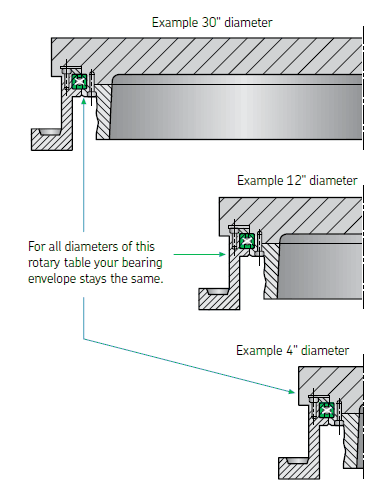 In Kaydon Reali-Slim bearings, each series is based on a single cross-section which remains constant as the bore diameter is increased. This is in sharp contrast to standard bearings in which the cross-section increases as the bore diameter increases. The constant cross-section of a Reali-Slim bearing is of particular value when designing a product which will be manufactured in various sizes based on shaft diameter and power requirements. By using the same series of Reali-Slim bearings throughout a product line, the designer can standardize on common components. For all diameters of this rotary table your bearing envelope stays the same.
Kaydon Reali-Slim bearings make a more compact design


Additional advantages in application design made possible by Reali-Slim bearings can be seen by referring to picture above. A large bore, small cross-section Reali-Slim bearing permits the use of a large diameter hollow shaft in place of a smaller diameter solid shaft , king-post design. Components such as air and hydraulic lines or electrical wiring and slip rings can then be accommodated within the hollow shaft, resulting in a neater, more efficient design.
In many applications, a single four-point contact Reali-Slim bearing can replace two bearings compacting the design and simplifying the bearing mounting. Besides the obvious cost savings of eliminating one bearing, this arrangement also creates space and saves weight. The use of Reali-Slim bearings also provides a stiffer structure by using large diameter hollow tubes to replace solid shafts and by supporting the rotating structure (table) at the periphery.